Welcome to the NightShade WikiEdit
Welcome to the Wikia all about the Nightshade Trilogy written by Andrea Cremer, the books in the series consist of Nightshade, Wolfsbane and Bloodrose. There is also a prequel series to Nightshade which consists of Rift and Rise. Cremer has also begun a sequel series to the Nightshade Trilogy starting with the book Snakeroot.
Nightshade
Edit
While other teenage girls daydream about boys, Calla Tor imagines ripping out her enemies' throats. And she wouldn't have it any other way. Calla was born a warrior and on her eighteenth-birthday she'll become the alpha female of the next generation of Guardian wolves. But Calla's predestined path veers off course the moment she saves the life of a wayward hiker, a boy her own age. This human boy's secret will turn the young pack's world upside down and forever alter the outcome of the centuries-old Witches' War that surrounds them all.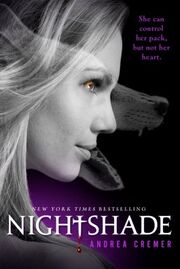 Wolfsbane
Edit
Nightshade Book 2: Betrayal, loss, pain, fear. How many trials can love endure and still survive?
Calla Tor wakes up in the lair of the Searchers, her sworn enemy, and she's certain her days are numbered. But then the Searchers make her an offer–one that gives her the chance to destroy her former masters and save the pack–and the man–she left behind. Is Ren worth the price of her freedom? And will Shay stand by her side no matter what? Now in control of her own destiny, Calla must decide which battles are worth fighting and how many trials true love can endure and still survive.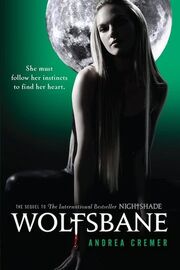 Bloodrose
Edit
Nightshade Book 3: Is true love worth the ultimate sacrifice?thumb|link=File:8130839.jpg Calla has always welcomed war.
But now that the final battle is upon her, there's more at stake than fighting. There's saving Ren, even if it incurs Shay's wrath. There's keeping Ansel safe, even if he's been branded a traitor. There's proving herself as the pack's alpha, facing unnamable horrors, and ridding the world of the Keepers' magic once and for all. And then there's deciding what to do when the war ends. If Calla makes it out alive, that is. In this remarkable final installment of the Nightshade trilogy, international bestselling author Andrea Cremer crafts a dynamic novel with twists and turns that will keep you breathless until its final pages.